Assyifa Peduli Synergizes with BAZNAS RI to Distribute IDR 100 Million of Humanitarian Infaq for Palestine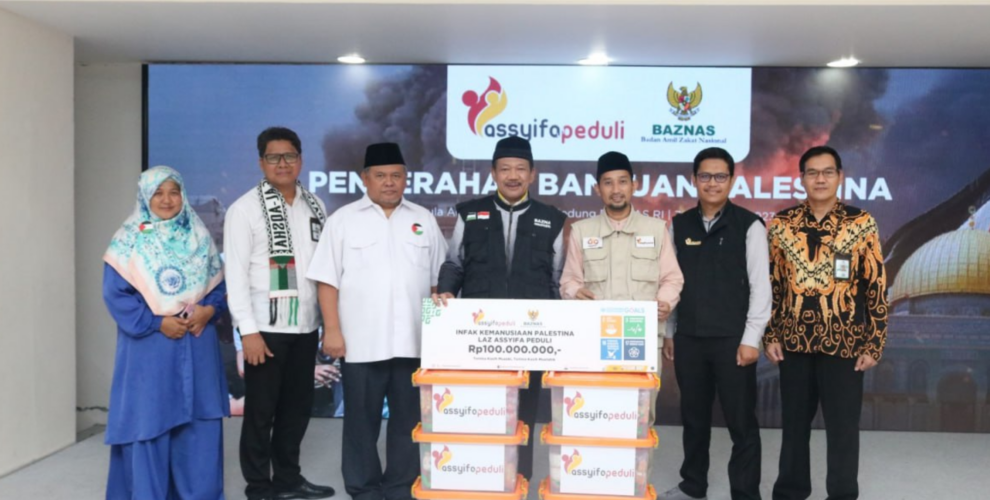 Lembaga Amil Zakat or LAZ Assyifa Peduli, submitted a humanitarian donation for Palestine amounting to IDR 100 million to the National Institute of Zakat or BAZNAS RI.
The donation was symbolically handed over by the Director of LAZ Assyifa Peduli, Ahmad Sahirul Alim, M.A., to the Chairman of BAZNAS RI Prof. KH. Noor Achmad at BAZNAS RI Building, Jakarta, Tuesday (7/11/2023).
"Of course this is a big mandate for us at BAZNAS because lately there have been a lot of mandates from the Indonesian people who entrust BAZNAS," said Kiai Noor Achmad in his speech.
Kiai Noor Achmad emphasized that the donation from the community, regardless of the amount, is very beneficial for humanitarian efforts in Palestine.
"Thank you LAZ Assyifa Peduli, this is extraordinary. We are very touched by the care and awareness of the Indonesian people for our brothers and sisters in Palestine. We hope that the suffering of the Palestinian people will end soon," he said.
Deputi I BAZNAS RI Bidang Pengumpulan, M. Arifin Purwakananta menambahkan, pihaknya menyampaikan terima kasih kepada LAZ Assyifa Peduli karena telah mempercayakan penyaluran donasi untuk Palestina melalui BAZNAS.
"Thank you to LAZ Assyifa Peduli for channeling humanitarian aid for Palestine through BAZNAS RI. We will continue to maintain the trust of the community," Arifin said in his statement.
According to Arifin, humanitarian aid in any form is urgently needed by the Palestinians who are still affected by Israeli attacks.
"The support of the Indonesian people for the victims of Israeli attacks in Palestine is very important and urgent. We always hold firm to distribute humanitarian aid in any form so that the people there can continue their lives normally," he said.
Meanwhile, Director of LAZ Assyifa Peduli, Ahmad Sahirul Alim, M.A., expressed his gratitude to BAZNAS RI for facilitating the distribution of aid from Indonesian donors to the Palestinian people.
"We thank BAZNAS RI for facilitating the delivery of aid to the Palestinian people. Hopefully, this synergy will continue, because we only collect and BAZNAS distributes," he said.
Ustadz Ahmad Sahirul hopes that the humanitarian assistance distributed by LAZ Assyifa Peduli through BAZNAS RI will be able to ease the burden on the Palestinian people, so that their lives will return to normal.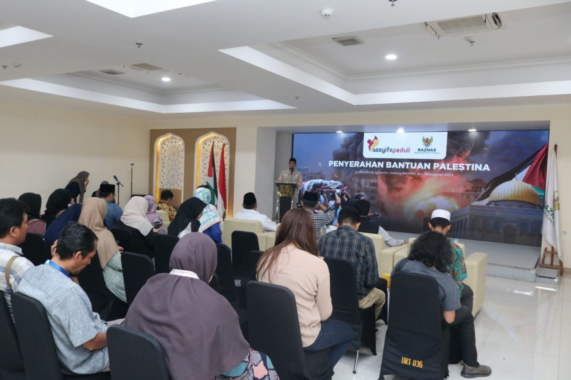 "On behalf of our donors, hopefully, what we have said can encourage other Indonesians to help the people of Palestine, because the benefits are felt by the wider community," he added.
Met in a separate place, the Chairperson of the Assyifa Peduli Indonesia Foundation, Hj. Lulu Ludiawaty, S.Psi., M.M., revealed that the infaq submitted was a form of concern for Assyifa Peduli and all donors.
"What is happening in Palestine is a humanitarian tragedy. Therefore, Assyifa Peduli and volunteers continue to raise funds to help them. Alhamdulillah, many donors have shown their generosity. Thus, from the donations collected, totaling one hundred million rupiah, today we are distributing it through BAZNAS RI," said Mother Lulu.
He hoped that the donation given through BAZNAS RI can ease the burden of the Palestinian people.
"Hopefully, the donation from Sahabat Peduli can ease the burden of our brothers and sisters in Palestine. And our prayers are very strong that the conflict will end soon. We thank all the donors who have donated their wealth. May what we do be blessed by Allah SWT and may Allah make it easy for us. As in the Hadith narrated by Muslim, which reads Whoever makes other people's affairs easy, surely Allah will make his affairs easy in this world and the hereafter," he explained.
Let us continue to pray and lend a hand to our brothers and sisters in Palestine by channeling humanitarian donations through the link https://bit.ly/peduliGZ or transfer through the BSI account number 7141486858 in the name of Assyifa Peduli Indonesia.