As-Syifa Carries out Social Service Activities and Free Health Services at the Al-Muchlisin Foundation
As a form of social care, As-Syifa Al-Khoeriyyah and As-Syifa Medika Clinic held a Social Service (Baksos) Free Treatment and Health Examination in Cilamaya Girang Village, Blanakan Kec, Subang Regency. This social service activity was held as a form of implementation of community service in an effort to improve public health, in collaboration with the Cilamaya Girang village government. Social Service activities carried out in the form of free health services include; health checks (Blood Pressure Check, Blood Glucose levels, Uric Acid, Cholesterol), health counseling and treatment. The activity took place from 13.00 WIB to 15.00 WIB. which took place at the Al Barokah Mosque. The activity was attended by the people of Cilamaya Hilir and Cilamaya Girang and its surroundings with the number of social service participants around 103 people.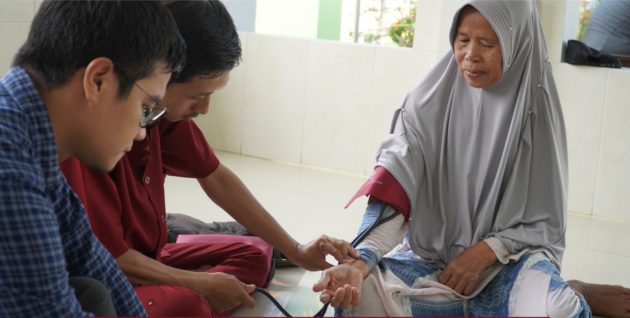 The team of health workers who came down from the As-Syifa Medika Clinic in this activity amounted to 5 people consisting of Doctors, Nurses, and Pharmacy and health support officers. The purpose of this social activity is to raise awareness and care for all levels of society about the importance of a healthy lifestyle and the importance of checking themselves and their families to health facilities in their area, both health centers and hospitals. In an interview conducted with one of the people who came to check their health, it was found that this kind of activity was very useful and needed because the community could find out their health status, get health services and treatment for free.
Gratitude from the residents was also expressed by Mrs. Darsih who accompanied the residents and health workers in the examination. In addition to gratitude, great hopes for the implementation of similar activities were also conveyed by her. "Hopefully in the future the As-Syifa Clinic can hold free medical social service activities like this again by providing the best service for the people of our village who need it," she said.
In addition, Dr. Encep Sugiana in his speech also hopes that this activity can provide a real social contribution to development in Cilamaya Girang Village in the health sector, which is one of the manifestations of As-Syifa Al-Khoeriyyah's concern to improve the quality of excellent health, so that it is expected to have a positive impact on the development of better public health conditions and the benefits can be felt by the community, especially the residents of Cilamaya Girang village." Said Dr. Encep Sugiana, as the Service Dr. who represented in this free medical and health check-up activity.